Sailing Around the Bay of Kotor
Discover a hidden gem on the Adriatic, the Bay of Kotor in Montenegro!
The Bay of Kotor has far too often been overlooked for its more popular neighbor, Croatia. 
Like Croatia, this small inlet in the Balkan country of Montenegro offers gorgeous coast views, safe travels for tourists, and quaint little towns drenched in history.
Historical Background
The word Montenegro means "Black Mountain" in Venetian. The name is tied into a long history of different dynasties and countries ruling and taking over the territory.
Although Montenegro is probably most famous for being one of the territories involved in the former country of Yugoslavia, it has been influenced by countries extending far beyond the Balkans.
The Byzantines, Ottoman Turks, Venetians, French, and Austro-Hungarians, among others, all had a hand in shaping Montenegro.
In the area of the Bay of Kotor, Venetian and Ottoman rule was particularly prevalent - echoed in the various ruins scattered around the mountains and coast.
Some Things to Know
The currency is the Euro (yes, even though they aren't apart of the EU yet, it's just apart of that casual "who cares" attitude I absolutely love about Montenegrins).
The official language is Montenegrin, a form of Serbian. Serbian, or Serbo-Croatian, is the main language of which many languages in the Balkan area derive from. So, if you understand one, you'll likely understand the others fairly well. 
The sea in Montenegro is VERY salty. It's fun and easy to swim in, but not so great for those who wear contacts.
English is widely spoken in varying levels of proficiency (but you should still learn a few words in their native language, it can go a long way - try hvala, which means thank you).
Nearly everything will be reasonably priced, a shock especially when you come from Croatia first. Tipping isn't necessary, but always appreciated, especially now that the country is more used to tourists. 
People in Montenegro (as with most who live in the Balkans) eat very late. Dinner starting at 9:30-10 is a common occurrence and was very hard to get used to. 
Getting to the Bay
If you're planning on visiting more than the Bay in Montenegro, keep in mind that the two international airports in Montenegro are in Podgorica (the capital) and Tivat. However, flights options are low and can be expensive because they aren't well-traveled airports.
If you are visiting the Bay first, you can try my tactic. I chose to fly into Dubrovnik's airport and hired a car to take me across the border into Montenegro.
Why not take a bus? Montenegro and Croatia came to an agreement that no direct buses would run from the airport in Dubrovnik into Montenegro (therefore forcing more people to use Montenegrin airports). So if you want to take a bus you'll have to take one into the city, then pay for and ride another bus to Montenegro. The times of all of this can vary as well, since the main border crossing can be very crowded. 
The private car I hired through Montenegro Travel Service only cost me 45 euros and saved me hours of stress. The driver picked me up directly at the airport and took a different road to get across the border. This one was along the coast and had no line. They were easy to book with, professional, and I felt safe the whole time. Later in my trip, I again used their services to ride from the town of Herceg Novi back to the Dubrovnik airport with an additional person and the price was still only 45 euros even for the both of us. 
Link below,
http://www.montenegrotravelservice.com
The Bay of Kotor
The Bay has been inhabited since the 6th century and became a UNESCO World Heritage site in 1979. It is probably the most popular tourist destination in all of Montenegro and is a burgeoning hotspot for cruises.
The Bay itself includes all the towns that dot the edge of the water, including Herceg Novi, but the crowning jewel is the town of Kotor. To get there, you must pass through smaller bays and straits.
Tip! - You can make the journey by car, but it will take a long time. Boats are FAR better and there are a huge variety to choose from.
Although Kotor is the main destination in the Bay, don't rush through the journey to get there! Stopping along the way at smaller towns and seeing incredible historical sites and breathtaking views was my favorite part.
The first major stop is in Herceg Novi! 
Herceg Novi
Most of my time in Montenegro was spent in Herceg Novi, a town at the entrance to the Bay of Kotor. This is where you'll find a boat to take you around the bay. (Another option is to take a boat from Dubrovnik, but not all boats from there stop at Herceg Novi. And you really should see Herceg Novi!)
It is a town of long winding staircases, rocky beaches with concrete additions that jut out into the water (to save your feet from the sharp rocks), clusters of bars and cafes full of good natured chatter, and absolutely incredible views of the gleaming ocean below.
Above it all looms fortresses that remain a testament to the town's turbulent history. Here, and all throughout the city you'll see remnants of the Ottoman Turks, Venetians, Serbians, Spanish, and more.
My favorite thing to do? Sample local pastries and fruits in the morning, then walk down to the sea and enjoy the water. Grab a drink and a sandwich for lunch and lay out in the sun. When the sun goes down, wander back up and rest before dinner. 
Tip! - Get a mixed meat platter, you won't regret it!
Another stop is the town of Perast. 
Perast
Perast, in my opinion, is the most photogenic place in the Bay. It's tiny, but idyllic, with waterfront cafes and restaurants that make you want to cry for how beautiful everything is.
Adding to Perast's charm are the numerous historical attractions showcasing years of different rulers (like Herceg Novi). Many are in ruin, but the town is slowly building them back up piece by piece.
One such site, is the Church of Saint Nicholas, where you can climb the bell tower for only 1 euro and get an even better view of your surroundings.
A word of caution - the word "crumbling" describes the bell tower well. It is very old and can be dangerous, with low-hanging parts of the ceiling and holes in the ground. Children under 15 aren't supposed to be allowed in (although I saw some people getting away with it). 
Next, the islands of St. George and Our Lady of the Rock. 
St George and Our Lady of the Rock
These island siblings are just off the coast of Perast and have long been the site of religious and artistic pilgrimage.
St. George is home to a monastery that dates back to the 12th century and is closed to the public as it is still active.
Our Lady of the Rock however, is a man-made island with a church that can be visited. The story is that in 1452, local men found an icon of the Virgin Mary and child on a rock in the sea. They took it as a sign that this was to be an important religious site, so every time they came back from a voyage they would throw a rock into this part of the Bay. Eventually an island began to emerge and a church was built.
The church was burned down and rebuilt through the decades and now includes a small museum. Entrance to the church is 1 euro and you have to dress somewhat modestly (this was flexible). Basically just don't wear only a bathing suit and you should be fine.
Finally, saving the main destination for last, Kotor. 
Kotor
Like every town along the Bay, Kotor has been ruled by many different dynasties and countries. Unlike most of those towns, it is remarkably preserved.
Stepping into the Old Town of Kotor feels like stepping back in time. Palaces and churches loom over small cobblestone streets that wind back further and further until you've completely lost track of yourself.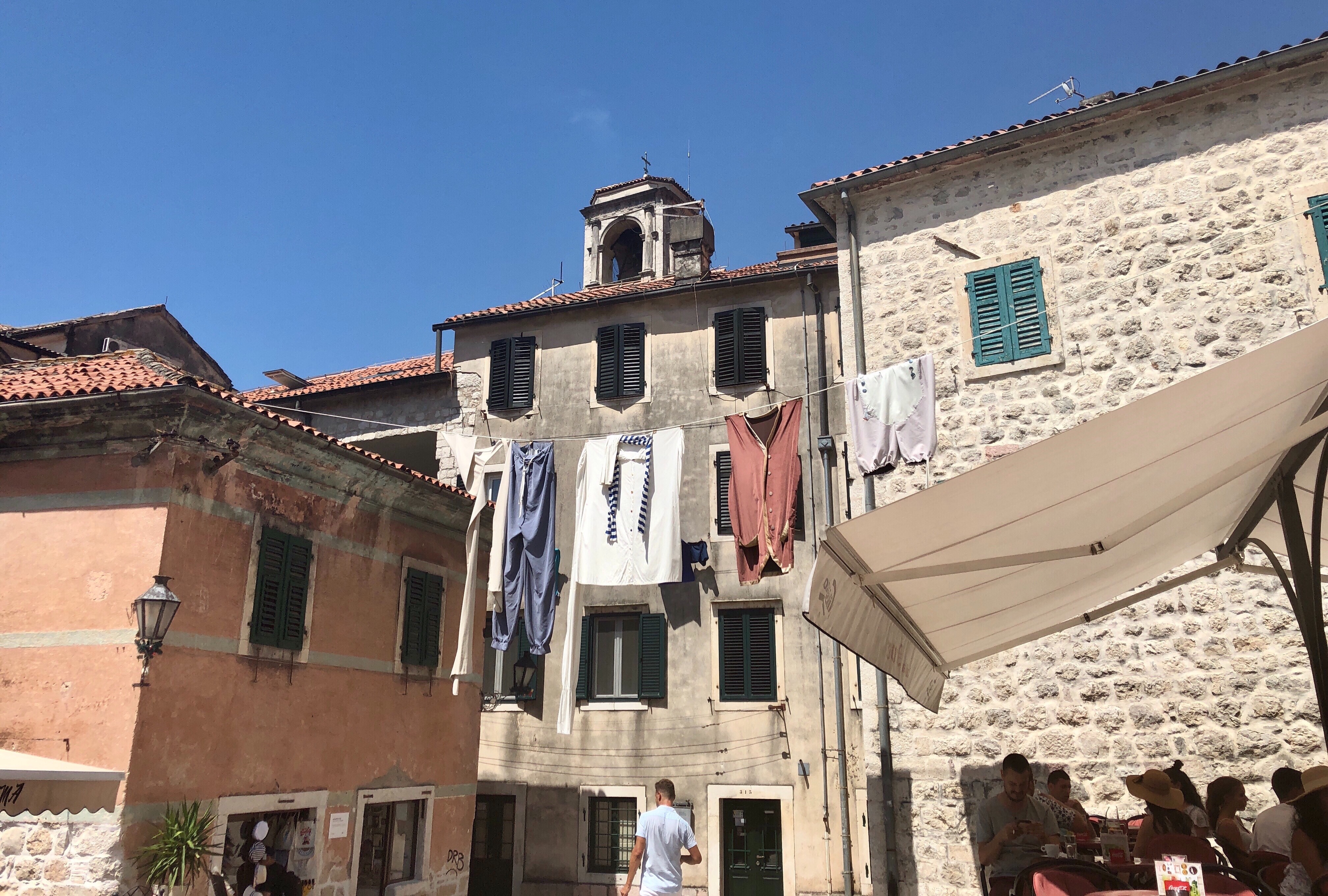 Tip! - Kotor is notorious for its nightlife, but you have to be aware that this prestige has made Kotor one of the more expensive places to visit in Montenegro (still not as bad as Croatia though). 
Other than its city and its views, Kotor is famous for cats. Yep, you read that right - cats. They're everywhere you look. While this might make you upset because at first glance they may appear as strays, don't worry too much. If you look closer, you'll see that the majority of these cats are happy and well-fed, with food and water bowls left for them everywhere.
One of the main activities to do in Kotor is to climb up to the top of the Castle of San Giovanni. 
This climb is not for the faint of heart, as there are more than 1,300 steps and the heat can be intense. You need to bring water, sturdy shoes, and a camera.
Whereas I did not do the hike because of an injury, I've been told that the view from the top is one of the most stunning views you can find in Montenegro, and that's saying something!
To Conclude
Montenegro is truly an underrated gem on the Adriatic Sea.
Italian beaches are wonderful, the Croatian waterfront cities are great, but Montenegro's Bay of Kotor is just stunning. And I'm not the only one who thinks so, as their tourism has seen a significant increase in the last few years!
What does that mean? It means, go visit now while it's still relatively undiscovered by the world!